Placing Dental Crowns

Platte City, MO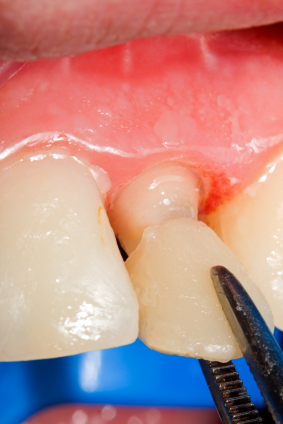 When it comes to improving the structural integrity of a tooth, dental crowns take the top spot. Crowns are non-removable tooth covers that are placed and cemented on the visible portions of a tooth. They encase a natural tooth entirely. Sometimes, a dentist can fit dental crowns that go past the gumline down to touch the tooth's surface.

At Platte Valley Dental Care we utilize dental crowns for a variety of tooth problems. Our dentist, after doing an exam, will decide whether crowns are the go-to option or an alternative treatment may be done.


What Issues Can You Remedy with Crowns?
Dental crowns cover the depressions and gaps formed after decayed portions of a tooth have been removed. If left untreated, these gaps and depressions can impact the tooth's health as well as that of the nearby teeth.

A dentist may restore a fractured tooth, cover a dental implant, protect a weak tooth, or cover a discolored tooth by placing dental crowns. Poorly shaped teeth can be covered with crowns. Once root canal therapy has been done, the tooth can be covered with crowns to protect it. Essentially, dental crowns offer tooth-like structure and shape to a damaged or vulnerable tooth.


Dental Crown Procedure
A dentist numbs an infected tooth along with the gum tissue using an anesthetic. The dentist clears any decayed tissue or portions from the tooth and does a thorough cleaning of the entire tooth's structure.

The tooth is also shaved down to have enough space and ensure proper support of a crown once it is placed. A dental impression of the shaved down tooth is taken in order to help in creating the cap.

In the meantime, you will have temporary crowns mounted. The reason is that, typically, crowns will need the models and measurements to be taken to a lab for the pieces to be fabricated. The process lasts about two to three weeks. A dentist will, during this time, have to fit an interim restoration to cover the trimmed tooth.

Once ready, you will come back in for the mounting of the permanent crown. The dentist removes the crown you have been using for those two or so weeks and then mounts the final one. If it fits seamlessly, it is cemented to stay firm.

If you choose to get same-day crowns, then a dentist can provide them. The office will use a milling machine to make same-day crowns. Usually, you will not require temporary crowns. Instead, impressions are taken, the crowns are prepared immediately, and in a span of two to four hours, you have the same day crowns completely mounted and cemented.


Selecting the Right Tooth Crowns
Our dentist will help you select the correct crown. Often, the decision lies on the kind of tooth receiving the crown, your preferences, and also your budget.

Each type of crown has its pros and cons. For instance, the benefits of ceramic crowns include the ability to imitate the teeth's natural appearance and resistance to wear. Metal crowns are sturdy and withstand chewing and biting forces. Resin crowns are tooth-colored, hence resemble natural teeth, just like ceramic, also referred to as porcelain crowns.

Call Platte Valley Dental Care at (816)858-2027 to learn more about crowns and why you should get them.